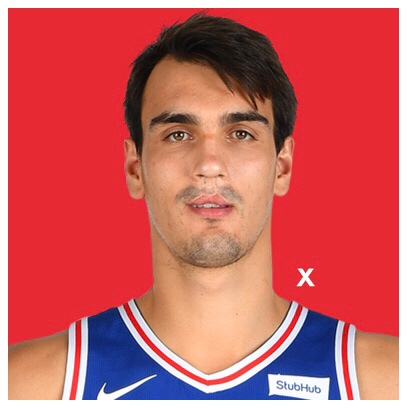 Focus: rebounding, outside shooting, complementary scoring
GAME 1 OF 2
12/12 @ MIN • W, 118-112 • OT
14 pts (3 triples), 8 boards, 3 dimes, 1 steal
Dario Saric provided timely, complementary scoring in Philly's impressive OT victory in Minnesota. In a nutshell, he basically did his job - this week's focus is on how Saric serves as a consistent tertiary scorer + his ability to stretch the floor & board.
All 3 were on display - in Robert Covington's absence, Saric absorbed heavy minutes - he upped his activity in the glass & made key shots (in the 4th) to keep PHI neck & neck.
Of his 5 made field goals, 3 were assisted by J. Embiid & 2 came courtesy from B. Simmons. THe Saric-Simmons-Embiid trio is enormous - all 6'10 or taller - so, big to big passing has never held a greater meaning.
Stretching that philosophy to the perimeter, however, is how PHI is able to complement its greatest advantage* - a 6'10 entry passer (Simmons or Saric to J. Embiid) kicking out to another 6'10 + shooter (Saric or Embiid) is extremely tough to close out on. With the defensive attn averted to PHI's young stars, Saric cashed 3 triples, all at or around the elbow area.
The main area Saric had trouble w/ was defensively. Matched w/ Taj Gibson, the nine-year vet easily got to his spots for short hooks & easy inside looks. He also spent lots of time switched on the likes of Andrew Wiggins & Jimmy Butler...with mixed results. If Covington continues to miss time, Saric's defensive intensity needs to ramp up.
Saric ended up as PHI's 3rd leading scorer (behind J. Embiid, J. Redick & R. Holmes) but played the perfect X-Factor role in a confidence-building victory.
*size
QUICK NOTES
• 2nd straight game w/ at least 3 triples, 7th overall
• Highest minute total of the season (40 min.)
• Got to the line just two times (1/2), avg. just 1 FTA this month
Next: 12/15 v. OKC