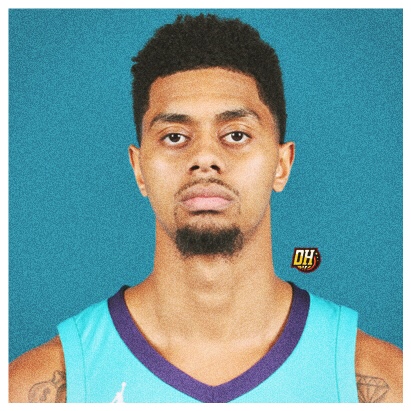 Focus: alternating between Starting 5 & 2nd Unit due to N. Batum's status
• The final two games of this week's tracking assignment (J. Lamb)
• J. Lamb started in place of N. Batum @ CLE, returned to Unit 2 once Batum returned (@ SAS)- how did he fare in both?
GAME 3 OF 4
11/24 @ CLE • L, 100-99
START: 11 pts (4/15 shooting), 7 boards, 7 dimes (35 min.), -2
Jeremy Lamb was inserted back in Steve Clifford's starting five after Nicolas Batum's elbow injury v. MIN.
Lamb slid right in his familiar spot at the 2 & even saw extended minutes w/ Coach Clifford's second unit. The luxury of Lamb alternating between starter & reserve can't be overstated - he serves as a lineup stabilizer solely due to his familiarity w/ different teammates.
@ CLE, Lamb didn't get off to the best start - 2 1Q TOs - but eventually came around to make a strong impact on the glass & as a playmaker. The shot wasn't falling all night (settled for triples, shot 1/6 from deep) but Lamb maintained big minutes w/ both groups.
Lamb, Kemba Walker & Michael Carter-Williams combined for 20 dimes (CHA had 25 in total), a good sign despite CHA shooting just 38% overall. Of his 7 dimes, Lamb found 4 3-pt. shooters (Walker, MCW, Marvin Williams twice) and dumped it off to Dwight Howard for two paint scores.
Lamb was quiet most of the night, missed a potential GW triple w/ under 10 ticks left.
GAME 4 OF 4
11/25 @ SAS • L, 106-86
24 pts (9/17 shooting), 7 boards, 5 dimes (37 min.), +26
On the second night of a back to back - and for the second game on a row - CHA struggled to generate easy scoring opportunities. As a team, they shot 4/25 from deep, 37% overall.
J. Lamb made his return to the bench (N. Batum returned from elbow injury) - played 25 minutes, scored 12 pts, pulled down 4 boards, dished out 4 assists. Once again, though, Lamb's shot wasn't there - had an inconsistent 1st half:
Forced jumper, stripped by B. Forbes (1Q)
F. Kaminsky found J. Lamb for cutting dunk (2Q)
Right elbow attack, draw foul (made 2/2 FTs, 2Q)
Missed floater off glass (2Q)
Left Da. Green wide open in corner (missed 3, 2Q)
Found D. Howard on dive, draw foul (2Q)
Lost Da. Green, made curl layup (2Q)
Turnover (2Q), defensive 3 seconds (2Q)
Check out: 4:04 (2Q)
Lamb had better success in the second half but it wasn't enough for the Hornets to both overcome San Antonio's stingy D and limit their effectiveness offensively.
Tracking... Wrap-Up
QUICK STATS & NOTES
• Avg. 15.8 ppg, 6 rpg, 4.8 apg this past week
• One of best overall efforts (of season) v. WAS: 24, 7, 5 dimes, W (37 min.)
• Went 1/9 from deep last 2 games of the week (@ CLE & v. SAS)
• Played season-low 21 min. v. MIN, yet shot well (6/9 FG) & contributed 16 pts
• Tied season-high in FGA (17, done three times) in OT victory v. WAS
TEAM RESULT: 2-2
TAKEAWAY
Jeremy Lamb's play seems critical to CHA's success, hence why he's their Undisputed X-Factor. When galvanized, Lamb is a solid two-way threat w/ the familiarity & versatility to contribute in multiple ways for Coach Clifford.
As a starter (as expected), he seems a bit more settled in in terms of how & where to get looks (K. Walker & D. Howard play key roles, make defenses collapse) - but as a reserve, Lamb seems a bit more intent on attacking both elbow zones, dribble penetrating & either finding a bucket for himself or teammate. Also, in Unit 2, Lamb (6'7) & MCW (6'6) are disruptive in passing lanes, both possess the size to harass perimeter scorers.
Nicolas Batum is Charlotte's incumbent at the two and when healthy, he's been very productive. But until he's fully recovered from his elbow injury, Coach Clifford might want to consider starting Lamb to both maintain his confidence w/ the first five & stay in rhythm.
Either way, Lamb's improved aggression, playmaking and defensive awareness is vital.
Staying consistent despite varying circumstances is the challenge - when J. Lamb is on, CHA is for the better.
Tracking Complete.
(Baro.)