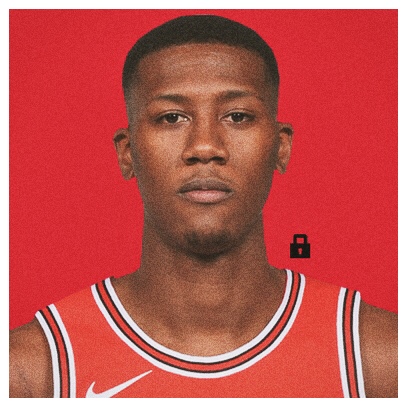 Focus: performance as Starting PG
• The final two games of this week's tracking assignment (K. Dunn)
• K. Dunn's performance on the road + on the second of a back to back.
GAME 2 OF 3
11/30 @ DEN • W, 111-110
19 pts (9/11 shooting), 5 boards, 5 dimes, 1 TOs
CHI narrowly lost @ DEN but K. Dunn's continued, solid play was a key storyline. Despite the 5 TOs, Dunn was pretty composed commanding the offense, had great shot selection (9/11 shooting) & made things happen attacking downhill.
The Bulls got off to a strong start, leading 24-8 in the first period. During that stretch, Dunn's output featured finding Robin Lopez (for scores) on two short feeds in the lane, hitting a right elbow fader, reverse layup & inbounds dish to Justin Holiday. Thru the first 7 min., he already tallied 6 pts & 4 dimes.
But though his rhythm existed offensively, he was a bit too over aggressive on D: resulting in two quick fouls - plagued 1H, ended up dropping into the 25-30 minute range* on the night.
CHI was in position to pull out a W late - Dunn was a driving force: driving layup, two-dribble midranger & two strong drives on K. Faried (latter of which gave Bulls the lead) - DEN ended up winning on Will Barton's (37 pts off bench!) reverse layup w/ 4 seconds left.
Overall, K. Dunn played a big part in CHI coming close to victory - cutting down foul trouble & maintaining offensive flow is still in the works.
*26:32 to be exact
GAME 3 OF 3
12/1 V. SAC • L, 107-106
6 pts (2/9 shooting), 8 dimes, 2 boards
Kris Dunn was solid defensively but never really got into a groove v. SAC.
On the second night of a back to back, Dunn wasn't as aggressive attacking the cup (just 1 FTA), didn't influence an aggressive style on both ends. CHI, as a team, was pretty efficient, however, shooting 47% w/ 30 dimes v. just 8 TOs.
Jerian Grant, former starter turned backup continued his recent stretch of consistent play - finished w/ 17 & 6 dimes in 26 min. off the bench.
It was more of an off night than anything else for Dunn, who turned in an (otherwise) impressive week.
TRACKING... WRAP-UP
GOALS
• 15+ scoring avg., 45%+ from the field -- Completed: avg. 16.3 ppg • Completed: shot 58%!
• 7 or less total TOs, 5+ assist avg. -- Just missed: 8 total TOs • Completed: avg. 7 apg
• 8 total triples, 37%+ -- Hit 6 total triples • Completed: shot 56%
• 5+ rebound avg. -- Avg. 4 boards/game
• 1-2 team record (or better) -- CHI: 0-3
Completed: 4/8
QUICK STATS & NOTES
• Avg. 16.3 ppg, 7 apg, 4 rpg this past week
• Career-high 24 pts v. PHX
• Went 1/9 from deep last 2 games of the week (@ CLE & v. SAS)
TEAM RESULT: 0-3
TAKEAWAY
Though it was just a one-week assignment, monitoring Kris Dunn for 3 games produced interesting results.
As a two-way attacker, Dunn shows glimpses of consistent playmaking on both ends. Defensively, his commitment to staying active & aggressive in passing lanes + emphasis on bringing a consistent mindset is extremely encouraging for a young PG. As Chicago surrounds him w/ better supporting personnel (true rim protector, defensive-minded wings & hybrid forwards), the overall team D should improve.
Offensively, Dunn likes attacking the midrange zones, particularly at both elbows. Going downhill, he's shifty getting to the lane after 1 or 2 steps - if there's hesitation, however, a forced look/difficult finish reoccurs. When he doesn't decide to drive off side PnRs, Dunn is comfortable leaning on a few diff. midrange Js & fadeaways at the elbow spots - rarer to see modern era PGs attempting these types of looks rather than floaters, layups & threes...but pays off.
While Dunn just missed 8 total triples, his shot selection was great (56%) & he valued possessions better @ DEN v. the Phoenix game.
Incremental improvements + silver linings will define CHI's season. A team in transition, Dunn should continue to start, rack up PT & develop. Can he build confidence as a leader & floor general or is he better suited as more a defensive playmaker?
Only time will tell.
Tracking Complete.
(Baro.)